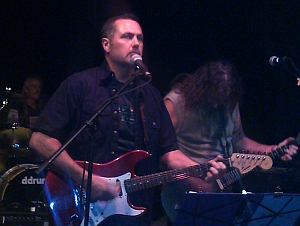 One of the first people I had the pleasure of meeting in Yarnell was the owner of the Yarnell Market, Andy Bacon. I remember my dear husband, Lou (my promoter, biggest fan and recording producer) quickly informing Andy of my music career, which he does everywhere we go!  (I love it, of course.) Andy was kind enough to sell my gospel CD, "Light My Path", on consignment at his store and is now selling my new CD "Ash n' Blues".
Through the conversation, he shared with Lou and I that he is also a musician – a rhythm guitarist and singer with the band, Man Down, formerly known as The Weaver Mountain Band.That was my first exposure to a fellow Yarnell musician. I have had the pleasure of singing and playing along with Andy in church, and at a fundraiser for Weaver Care Resources. It was fun and refreshing! Since then, I was able to get to know the other members of Man Down. Andy is moving on…life is taking him to New Mexico. The remaining band members have formed under a different name: "Spatz". Meet them here!
GENRE: Rock, Classic Rock

BAND MEMBERS:
Cliff Dupuy - Bass
Delbert Long - Lead Guitar and Vocals
Stephan Gutowski - Drums

BOOKINGS INFORMATION: Call Cliff Dupuy @ 928-427-6476
The band's members are native to California. Cliff Dupuy, bass guitar, has lived in the Yarnell area for 4+ years. While listening to Cliff play the driving force behind all chords, you would never guess that he only seriously started playing almost 2 years. Cliff is a veteran, having served in the US Navy. (Thanks for serving, Cliff). His life partner is Garnet. There is a store in Yarnell called "Patty & Sons", of which Cliff is one of the sons.  This is another place all visitors to Yarnell need to see!  It's full of antiques, jewelry, polished Arizona rocks, you name it. (Great store to acquire some souvenirs, fyi.)
Delbert Long – WOW, lead guitarist PRIMO – is also originally from California. He is the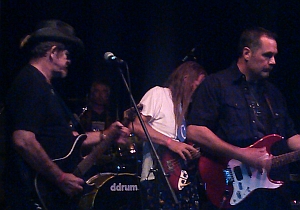 newest member of the band and has lived in the Yarnell area for almost a year. Delbert has played guitar for 40 years, and the rest of the band is thrilled he has joined them.
The drummer, who's been so aptly rockin' the beat for 53 years, Stephan Gutowski, is also from California, but has called Arizona home for the last 25 years. His seasoned talent is very evident, not to mention Stephan is fun to watch as he becomes one with the sticks.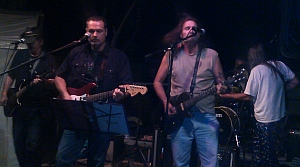 Thank you Spatz, for keeping Yarnell PUMPED!