So, I hope everyone survived Rosa's fury with minimal to no leaks! So what's new with you?
I like that many of you respond to my blasts – it keeps us in touch. Thanks!
What's new with me….I'm going to have grandchild #3 in March and I'm excited. Except they live too dang far away. But it's a great reason to travel.
Lou and I will host our first house guests since we moved to Wilhoit. His brother and wife are coming to see the Arizona sights. Otherwise, I work a lot. Yarnell Fire District, Model Creek School, Directing the Cantata, Musician and Grant Consulting Business. That's why it takes me awhile to send these in the first place!
Without further ado – here's some music events for your calendar:
1. This Saturday, October 6th – 5pm to 8pm – Yarnell Fire Station, 22558 Looka Way, Yarnell: It's a Wine Tasting, Cheese Appetizers and Jazz by yours Truly. Fundraiser!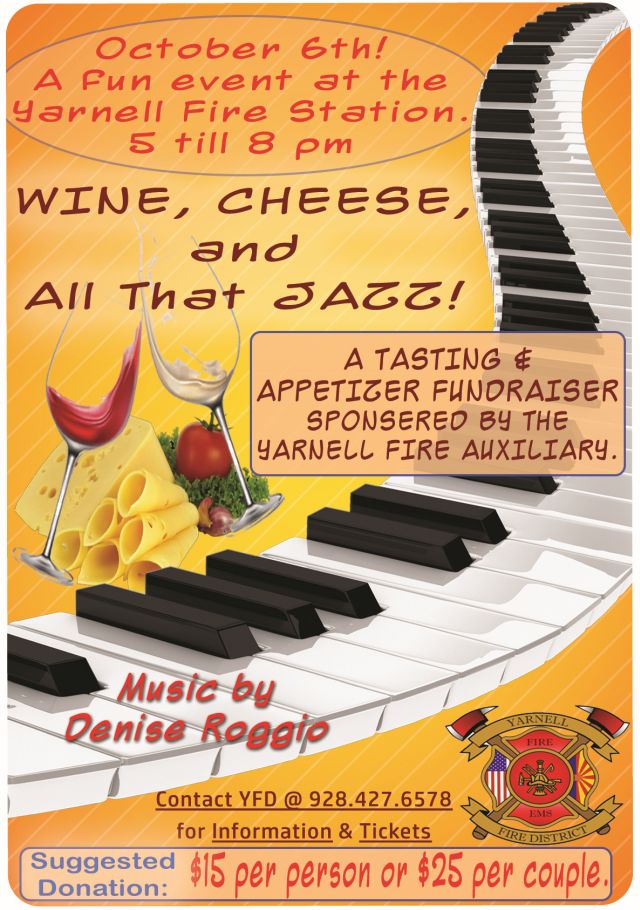 Sponsored by the Yarnell Fire Auxiliary, we're going to have fun. Come see us at the Fire Admin Building to get your tickets in advance. $15 per person, $25 per couple.
Gonna be a good time. Linda Ma, Auxiliary Chair, has a way of transforming a fire station into a classy bistro. You'd never know they keep apparatus in there. Check it out.
2. Friday, October 19th – 5pm American Legion Post 79 Country Style Rib Dinner by the fabulous John and Shawna Shelley, with music by Yarnell's talented Walt Eckes and his equally talented buddy John! They start playing at 6:30.
So, I wanted to attend this one, but I was booked already to play at (keep reading)…
3. Friday, October 19th – 4:30 to 7:30 VFW Post 541 in Prescott, Fall Fiesta Mexican Style Fun. Open to the Public $11 pre-sale! I'll be playin and stayin.
4. Friday, October 27th – Mark the calendar – I'll be playing at the American Legion Post 79 Halloween Party. For that, you will receive details soon!
Remember to tag your broom before you park it. Some of them look so much alike…
Well, that's a wrap. Hope to see you soon and I'll pass along Halloween Info soon.
Denise