Artist Chuck Tidey: A Natural Leader
Having been born in LaPort, Indiana, Chuck Tidey would never have thought of Yarnell, AZ as home. He probably wouldn't have guessed he would be displaying his colorful artwork at the Yarnell Public Library as a Featured Artist. If you asked him, he would tell you he had no aspirations to be an invaluable leader in this community. But things happen for a reason. Throughout life's pathways, Chuck's intuitive ability to take initiative when needed has rewarded his life in sensational ways.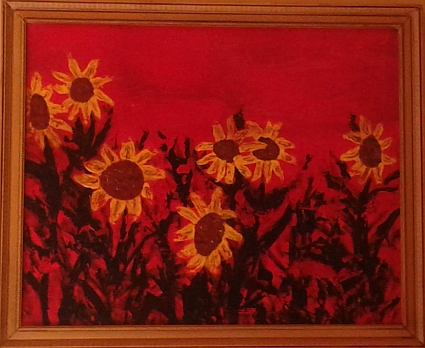 If you were to read about his accomplishments – awards for military service, flight school, etc…- you might be tempted to consider him to be unapproachable. But once you meet him, it takes no time to establish that he is a humble, jovial person who enjoys sharing memories. He is certainly not ostentatious. He's just Chuck Tidey and that's fine by him.
When he was 9 years old, Chuck moved with his family from Indiana to San Fernando Valley, CA. His father was a mechanic; his mom was a waitress. Chuck fondly remembers when his mother left waitressing and became a dispatcher for the California Highway Patrol. Remember the 1970's T.V. series, CHiPs? As it turns out, some of the actual dispatch transmissions on the TV series were authentic recordings. Chuck's mother's voice was heard by many viewers of CHiPs. Chuck also remembers that his mom came upon a difficult situation while dispatching. In what is known as the Newhall Massacre, April 6, 1970, a shoot out between heavily armed criminals and the California Highway Patrol resulted in four CHP officers being killed within 5 minutes. Chuck recalls that his mother was on dispatch duty at the time, and the incident broke her heart for many reasons. Firstly, the officers were young married men with small children. Secondly, she was forced to endure several weeks of testifying as a dispatch witness. Regardless of hard times, Chuck's mother is still a lady of strength and good health.
After graduating high school in 1965, Chuck decided not to pursue college. Instead, he enlisted in Flight School, a 2 year program with the US Army.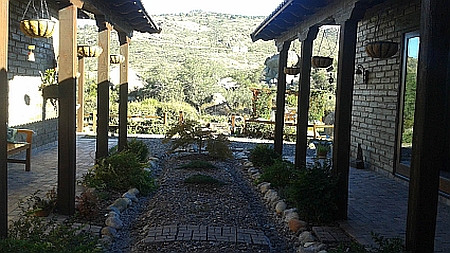 He became a Chief Warrant Officer Helicopter Pilot. He spent his first 6 months after flight school stationed in Fort Riley, Kansas. And then, it was off to Vietnam. The ride to Vietnam was quite the adventure. An old troop ship from World War II was his transportation on the 21-day voyage across the Pacific. It was a horrifying trek. Riding through a typhoon in a ship that felt like it was held together by rubber bands does not induce confidence in a successful journey. Yet, he arrived and lives to tell the tale. Upon his arrival, he took his R&R in Sydney, Australia. Chuck served one year in Vietnam, logging 1,064 combat hours. His service earned him service medals and an air medal. His roommate in flight school was sadly the only casualty in his unit. Chuck also survived a helicopter crash caused by engine failure. There were several students onboard, and thankfully, no one was injured.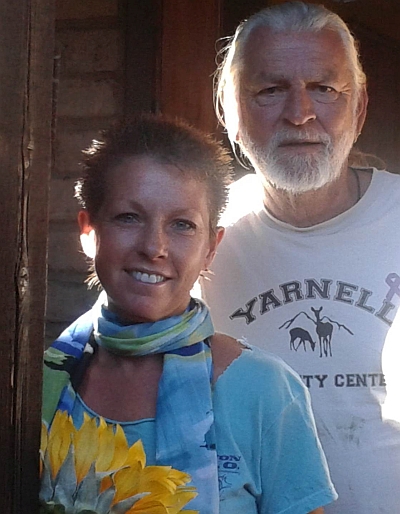 After 20 years in a military career, Chuck retired, receiving his first retirement paycheck on his 39th birthday. His life adventures were many, and were just beginning. He then worked for Hughes Aircraft Company for over 11+ years. He had married and became the proud father of a son, James. The marriage lasted 13 years. Again, fate stepped in and brought him to Sambo's Restaurant in Yuma, AZ. Chuck's niece worked at Sambo's, so he would eat there to visit her. But, guess who else waitressed at Sambo's? The lovely Leah, who shortly thereafter became his wife. Chuck and Leah have been together for 31 years. They have traveled the world, living abroad at times (including Australia), and finally settled in Yarnell. Chuck's position with Hughes Aircraft led to being transferred to Washington, D.C., where the couple lived and Leah became a secretary. (Somebody had to keep everyone straight! And she still does.) After retiring from Hughes Aircraft, Chuck & Leah moved to the Florida Keys. After awhile, they were ready for a change.
Chuck's mother lived in Las Vegas, NV. His son lived in Yuma then (he now resides in Idaho). The Tidey's desired to find a place between the two. Yarnell was the perfect spot. One day in 2003 while driving from Prescott, Chuck found the property. It was 54 acres, which was much more than he and Leah wanted; but delightedly, it was being subdivided, and they were able to purchase the eight acres they now call home. Chuck and Leah designed a dream home: Adobe-Hacienda design, complete with a unique circular sitting room, a wine room, a gorgeous outdoor courtyard, a ramada, and beautiful boulder-layden views. Not only did they design it, but they helped during construction. Leah hung all the insulation, while Chuck pulled the electrical wiring. The house took about 20 months to complete, during which time the Tidey's rented an apartment in Wickenburg. However, change is calling them again. This home is on the market, waiting for its next owner. Chuck and Leah have decided to downsize and build another home in Yarnell.
Chuck became the Yarnell-Peeples Valley Chamber of Commerce President two years ago. At the time, the Chamber was going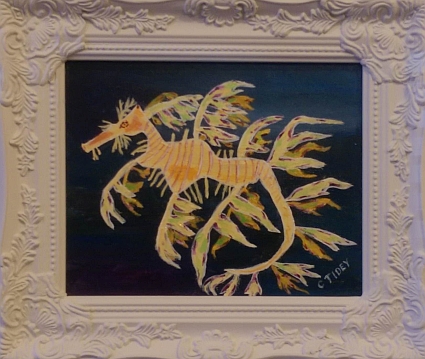 through transitions and a leader was needed to pull things together. He acted quickly to help form the Yarnell Hill Recovery Group immediately after the 2013 fire. The YHRG, as it is called, has not had an easy task, and while their efforts have been enormous, they have faced opposition on many levels. Chuck explained that all one can do is their very best, and it is expected that you can't possibly please everyone. He believes the group will remain active for about 5 years to ensure that "Yarnell will rebuild better and stronger!"
Chuck began sketching while in flight school, at the age of 18. He actually found himself sketching during class! But art became a hobby that he immensely enjoys. When Chuck and Leah came to Yarnell, Leah found out about the local artist group who paints together on a weekly basis. Many talented artists in the area attend the group sessions. Barbara Schlegel, Jerry Florman, Bill Chaplin and Bob Brandon are among them. Chuck has painted with these artists for 5 years. He has never received formal training, but has a natural gift – especially with his use of bold, brilliant appealing colors. He doesn't mind abstract art, and he doesn't mind realism. He just paints from a picture he finds interesting, and makes it his own colorful creation. For Leah's 40th birthday, Chuck took her on a vacation to Rome, Italy. They were eating dinner on the Piazza River when Leah spotted a painting that she absolutely loved. It was a rendition of brightly colored sunflowers on a red background. Chuck told her to take a picture of the painting, and he would paint her an original from the photo. He accomplished that! And it proudly hangs in the kitchen today. The warmth of the golden and italian red kitchen makes the sunflowers stand out perfectly. Chuck's medium of choice is acrylic. He has also experimented with a palette using acrylic. He has a story to tell for each painting, which gives it a more artistic meaning. In their guest casita, there is a wall containing a grouping of painted fish. Chuck explained that at one time, he and Leah were going to move back to Florida. He asked each member of the artist group to paint a fish for him, so he would have them in Florida to fondly remember their times together. Thankfully, they stayed in Yarnell. But those brightly colored tropical fish paintings are hanging so beautifully, reminding Chuck and Leah of good friends, the beauty of art and their love for the tropics.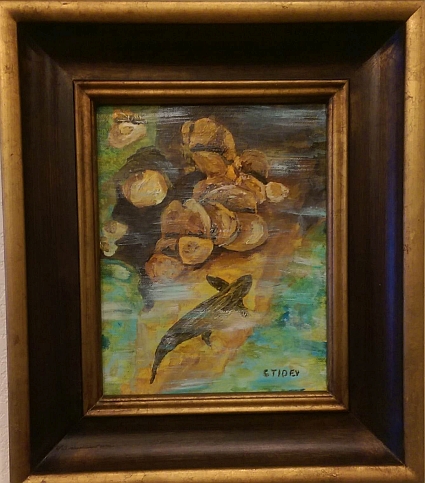 The Yarnell Public Library features artists each month. The Featured Artist for November 2014 is our very own Chuck Tidey. His art is being displayed there at the time of this writing. Visit the library to see some of Chuck's favorites: "Nemo", "Leafy Sea Dragon" and much more. Chuck has also provided a way for visitors to support the library. Each 8 X 10 painting is priced at $100. All of the proceeds will go to Friends of the Library. There will be a "Meet & Greet the Artist" on November 17th from 2pm-4pm. You will not want to miss this opportunity to talk to Chuck and listen to the interesting stories behind the paintings. The bright and inviting colors he chooses are a fabulous reflection of himself.
Thank you, Chuck and Leah for being an important part of Yarnell; not just for the leadership, event promotion, organizing, and all of the tasks you both accomplish, but for being true friends to so many of us, being true to yourselves and for being an example of hope in a community that thrives on it. You are loved….