Yarnell friends turn out to celebrate housewarming
– By Kathy Montgomery
Stacy Pizzirusso welcomed a steady stream of friends into her reconstructed Glen Ilah home Saturday. They marveled at the stone fireplace with its cast-iron cooktop that stands at the center of the house. It somehow survived the Yarnell Hill Fire, which reduced the rest of the house to rubble.
Guests peeked into the reconstructed bedroom and bathroom, Stacy's sewing room and husband Roy's music room. Stacy's new kitchen counters filled up with gifts: metal yard art, hand-embroidered kitchen towels.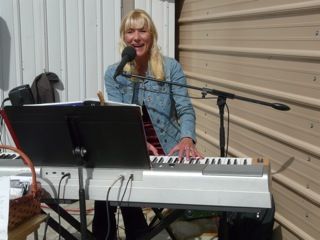 Outside, Farm Bureau Financial Services representatives, who sponsored the event, served up barbecue brisket, pulled pork, baked beans and chocolate cake. Popular local musician Denise Roggio played keyboard and sang for the crowd, including Mustang Sally, a favorite of Stacy's. Between tours, Stacy managed to sneak in a few dances.
Read the full story at the Daily Courier.